A Dentist in the 85042 Area
Has this ever happened to you? You are chewing something soft, say scrambled eggs, or a donut, and suddenly you feel an unusually hard object, something that you doesn't belong in that mouthful of food.
So you move it around with your tongue until it's up front where you can grab it with finger and thumb and pull it out to take a look. I looks white, odd shaped, with a pointed end. Instinctively your tongue darts along the wall of teeth along either side of your mouth until you find the gap. There is a hole in the wall, and it feels immense!
Yes, a piece of a tooth has broken off. You have no idea it had weakened to the point of splitting into chunks. It had seemed so healthy, and it looked solid, secure with its metal filling. What you didn't know was that with enough wear, silver fillings, especially if they occupy enough space within the tooth, tend to expand and contract and cause the enamel of the tooth to develop microscopic fissures, With time, the fissures may widen to the point of separating a section of the tooth from the remainder.
It could be worse, of course: you may wake up one morning with pounding pain in a tooth in which decay has produced infection that has reached the nerves. You might feel that you can tolerate a gap in your row of teeth for a while, but the pain of toothache is an entirely different proposition. Maybe the pain is not in your mouth, it's in the mouth of your child. That would be truly intolerable. You have every incentive to move quickly.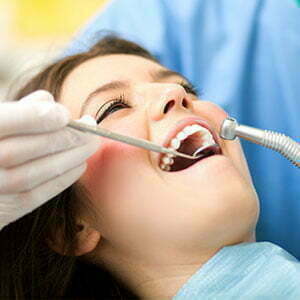 At this point you might say to yourself, "I need a dentist office near me, specifically a dentist in the 84052 zip code." It is always handy to know a dentist you can depend on and turn to when a sudden need arises: an emergency dentist!
This is the time to think of your friends at Sky Dental Alliance. With three offices in the Phoenix area, we are close and convenient to you. Anything you need in the way dental service that you need, Sky Dental can provide highest quality in a highly professional and home-town friendly environment.
Then again, maybe there is no sudden emergency. You like to maintain a good state of health. Dental health is an important component of that. Poor dental hygiene can lead to heart disease, possible dementia, respiratory issue, infertility, complications of pregnancy, possibly kidney disease and rheumatoid arthritis. Oral health is about so much more than just the health of the mouth, teeth, and gums. Because the mouth is a primary entryway into the body, poor oral health can have negative consequences for the entire body. Teeth that ache, gums that bleed, and breath that smells bad are all indicators of poor oral health. Bacteria from the mouth can easily get into the bloodstream and cause infection and inflammation wherever it spreads. It is important to practice good oral hygiene and to see a dentist regularly in order to avoid serious risk to the body's overall health.
It is not a matter of whether you need a good dentist, it is a matter of which dentist you will see. If  you are like most people, you don't visit a dentist for the fun of it. You do so because it is important to do so – for your health. Nevertheless, it is so much easier to go get your check-ups and treatments when the dental office is close by. When we talk about a dentist in the 85042 zip code, close to downtown Phoenix, we are really talking about three Sky Dental offices on the west side of the valley, from Peoria to Glendale, all with easy freeway access from all parts of the Phoenix area.
Outside of the convenience of location, what do you get once you arrive at an office of the Sky Dental Alliance. All offices are bi-lingual, with staff members fluent in Spanish and English. We also offer a full range of preventive, restorative and cosmetic dental services, along with cutting edge dental implants and same day orthodontics. Your dental health is important to us, and we are committed to helping you achieve healthy teeth, gums and a smile you'll want to share.
For those emergencies, we arrange same-day appointments. We understand how important it is to take care of discomfort immediately, whether in an emergency or during a routine visit. For your convenience our offices offer appointments that can match any schedule. Including evenings and weekends.
We will take care of you whenever your need is "a good dentist office near me."